Welding Procedures
Technoweld are the experts in custom Welding Procedure Specifications
Contact us for a quote
Welding Procedures are a critical part of the welding quality puzzle. A Welding Procedure Specification (WPS) is a proven way of doing things. It demonstrates to a client that you have control over your welding process specifications and operations.
An impractical Welding Procedure can considerably hinder your project. The end goal of a Welding Procedure is that you have a practical work instruction to follow that ensures you produce a weld that has the required mechanical properties and survives in service. This requires Technoweld technicians who have welder procedure qualifications.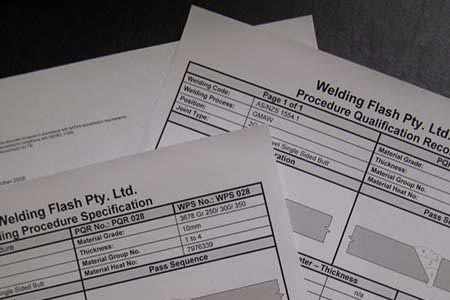 What Is A Welding Procedure Specification?
Welding Procedure Specifications (WPS) are written instructions for welders on the shop floor to follow. This ensures sound welds are produced efficiently and consistently to the required standards.
Examples of (WPS) Welding Procedure Specifications are:
Pipe welding specifications
AWS welding specifications
MIG welding specification
Standard welding procedure specifications
Technoweld are the experts in custom Welding Procedure Specifications fill in the form below and a member from the team will get back to you regarding your enquiry.
Why Choose Technoweld Welding Procedure Specifications?
So why chose Technoweld to run your Weld Process Specification?
We know what works,
we reduce your overall welding costs,
we increase your efficiency,
we take on the risk of failures and pay for retests in the unlikelihood they occur,
to ensure your welding operations are compliant, yet user-friendly and productive.
Examples of Welding Procedure Specifications are:
Structural Steel WPSs to AS1554 or AWS D1.1
Pressure Equipment Welding Specifications AS3992 or ASME IX
ISO 15614
MIL Spec,. DNV-GL
AS1665 or AWS D1.2
Technoweld are industry Specialists. We research, develop, witness, run and document welding procedures specific to your project needs.
We have existing procedures that can be supplied within hours of the first discussion or we can develop detailed and extensive welding procedures to cover a range of welding processes for most materials. These materials include low carbon steel, aluminium, stainless steel, duplex, and super-duplex.
Technoweld have Welding Procedure Specifications for most thicknesses, positions, and welding consumables. All our Welding Procedure Specifications have been witnessed, developed, reviewed, and signed by a Senior Welding Inspector.
For your peace of mind, we keep a record of all critical data including test reports, material certificates and procedure qualification records on our secure servers. All Technoweld Welding Procedure Specifications can be resupplied at any time.
In most cases, you will receive the required specifications in less than 24 hours.
I have used Graham and his Technoweld team several times. Graham has a huge in-depth knowledge of welding to Australian and international standards. He is my go-to man for weld procedures and inspections. Always a pleasure to work with.
Mark McKnockiter